Chains
Bkc Chain provides an innovative product range concerning standard and special chains for industrial applications. Special design chains, light and heavy types of conveyor chains, scraper chains, transport chains, and attachment chains, are just some of the product range of Bkc Chain.
The chains are manufactured from different grades of steels, high strength carbon steels or stainless steels for all type of applications. Bkc Chain produces sprockets for the chains that it produced, and ensures perfect working in tandem with the chains.
The Bkc Chain team has extensive knowledge and experience in different scopes. Also, the team always shares its knowledge to provide the best solutions in suitable conditions to its customers.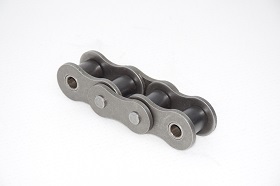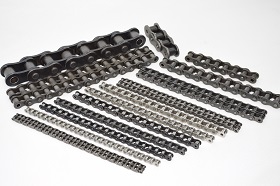 DIN 8187-8188 Norm Chains
BKC CHAIN satisfies the demands of customers with Serie A (DIN 8788), Serie B (DIN 8187), heavy-duty Serie, bush chains, roller chains and even with more options. The chains which serve as power transmission or conveyor parts have a wide range of properties, from simple roller chains to six rollers. The sales are made with two material options; carbon steel chains and stainless chains. Chains also provide breaking load figures of American National Standards Institut and British Standards. Depends on their purpose, the transmission cha...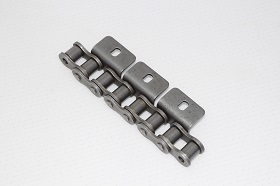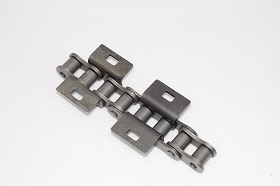 Attachment Chains
Bkc Chain produces a variety of attachments in perpendicular form and twisted form for short-pitched norm chains, Serie A (DIN 8188), Serie B (DIN8187). BKC Chain, by adhering to the designing plan, dispatches the attachments after mounting in the requested form. BKC Chain provides the fast and economic solutions with the attachments that it produced for the conveyors that are designed from short-pitched chains. These chains are produced from carbon steel, zinc chrome plated and stainless steel. ...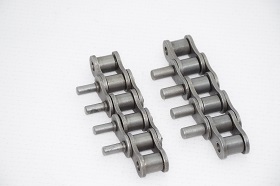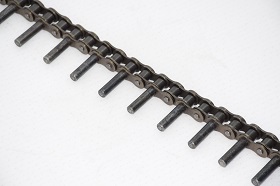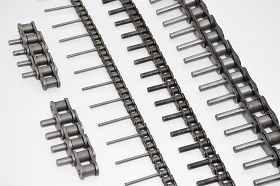 Extended PIN Chains
For short-pitched and long pitched chains, BKC Chain designs chains with pins extending from within pitch axis. The extended pins are produced by using the best materials according to customer's needs and perfect processing techniques to conduct a guide for special attachments and pushing-pulling processes. Bkc Chain ensures long-lasting use and high efficiency on the chain by mounting pins at requested distances in the line with conveyor's needs that the customers designed. These chains are produced as carbon steel, zinc chrome...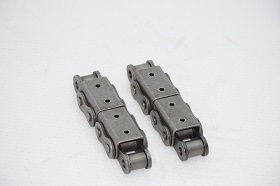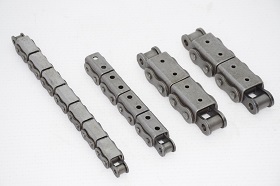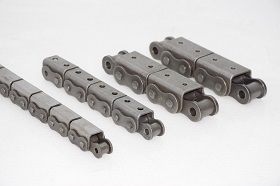 Plastic Roller Chains
Plastic roller chains of BKC are used as multi-row on transfer conveyors. BKC Chain sticks plastics and rubbers in various heights on these kinds of chains. This application is ideal to transport sensitive products in the places where the conveyor must be used. Rubber roller chains of BKC are used to transport the goods that shouldn't be scratched like plated or thin sheet metal, dyed wood plates, roof tiles or polished pipes. Also, it's possible to produce these chains as steel-plated without sticking rubbers. ...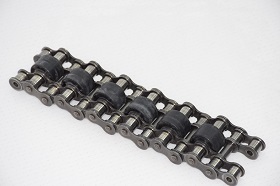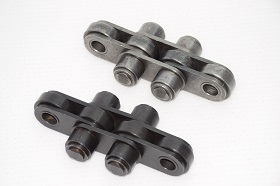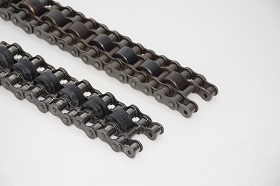 Center and Outboard Roller Chains
Center roller chains of BKC, are used in various applications in industries to transport the materials. And also they are used in control and assembly lines, storage stages, and transport systems for different materials. When the chains are provoked from both sides by placing the rollers on the middle axis, the transfer will be faster owing to a roller which is in the middle. BKC Chain produces different combinations as steel and plastic for middle roller. Outboard roller chains of BKC, are produced with many different designs. By ext...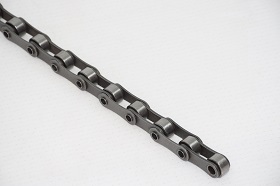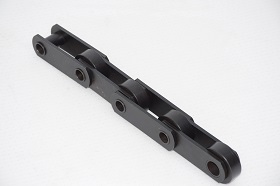 Hallow PIN Chains
Hollow pin chains of BKC, are used by inserting opposing steel rods in the hollow pins or by connecting the carrier part between two opposing chains. Areas of usage are multifarious according to their designs; bucket belt systems, sawdust conveyor systems, washing baths, picking belts, roller conveyor systems, etc.. ...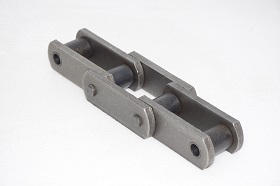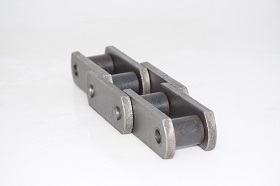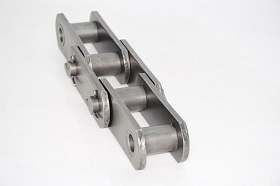 Bush Chains
Bush chains of BKC are produced based on DIN 8164 standards. Bush chains have similar properties with roller chains, but they don't have outer rollers. They have quieter operation features in comparison to roller chains. They are suitable for operations at low speeds in tough conditions on the grounds of their robust designed textures. They can be used on lifting load chains, driving chains, mining conveyors, etc… ...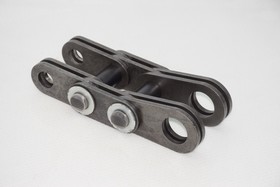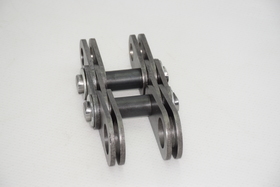 GALL Chains (DIN 8150)
Gall Chains (DIN 8150) Bkc Chain manufactures Gall Chains based on DIN8150 norms. These chains that are gathered by aligning multiple chain plates on steel pins, are produced by BKC Chain and they are quite durable. Their breaking loads are much higher than simple row chains. And for that reason, the Gall Chains that we approve as more durable, are suitable for carrying heavy duty through their serial plates. Thanks to this durability, the gall chains provide hardwearing usage. Gall Chains can be designed and produced in special ...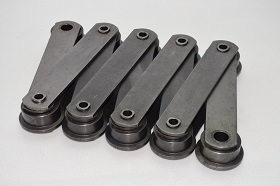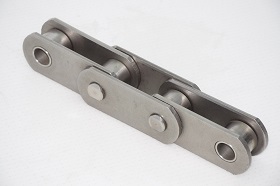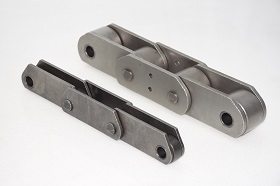 Solid Bearing Pin Conveyor Chains (FV SERIES-DIN 8165)
Solid bearing pin chains of BKC are produced as straight or twisted attachment and welded attachment. They have a wide range of using area. They are produced with roller in bush or A, B, D forms. BKC solid bearing serie chains are preferred frequently in heavy-duty conveying systems and assembly lines. They are produced as strong riveting system, anti-rotation flattened pin tips and with heavy-duty ring or safety pin which could provide convenience for assembly and disassembly. The plates of chain, bushes and pins a...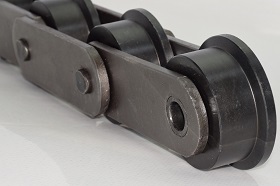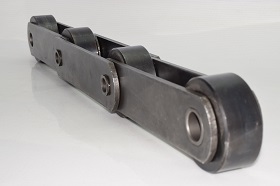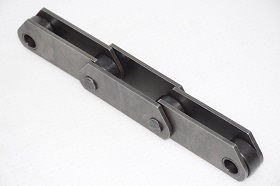 Scraper Conveyor Chains (FV-M SERIES DIN8165-DIN8167)
Scraper chains of BKC are produced as straight, twisted sheet, welded sheet and plastic scraper mounted. They have a wide range of using area. Generally produced with fixed bushes or type A rollers. Scraper chains are the chains that designed for transportation of granular and powder materials or the rest materials after the conversion processes. They are produced as strong riveting system, anti-rotation flattened pin tips and with heavy-duty ring or safety pin which could provide convenience for assembly and disassembly. The plates of chai...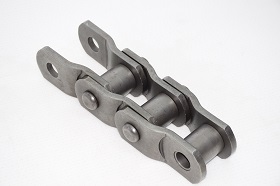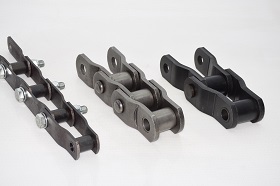 Rotary Heavy-Duty Chains (DIN 8182)
BKC rotary heavy-duty chains reach to high breaking and tensile figures by means of angular shaping that is applied on chain plates. They are frequently used in heavy-duty service conditions where high power transmission needed like asphalt industry, cement industry, chemical industry, sugar industry, wood industry, etc… ...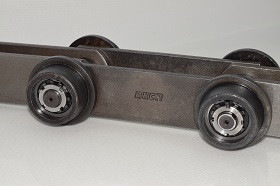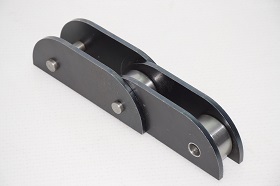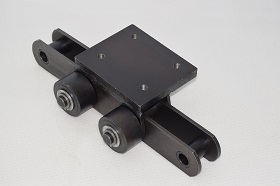 Special Chains
Bkc Chain has a capacity to produce chains by making changes on plates, on carrier attachments and on bushes according to load and working space, in accordance with the needs of its customers. It produces new designed chains by samples or technical drawings in fastest way and highly qualified. ...
Chain Sprockets
BKC CHAIN also produces sprockets of all chains that it has produced. Bkc chain sprockets work in tandem with the chains, thus, the chains can work for many years without any problem. ...
Conveyor Chain Request Form
Please complete the form below for your request ; we will get back you as soon as possible.
Tel : +90.232 459 58 18 - +90.232.459 58 28
E-Mail : info@bkczincir.com.tr